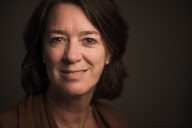 Franciska de Jong
As of September 2015 Franciska de Jong is executive director of CLARIN ERIC, the pan-European research infrastructure for language resources.  With centres in 22 member countries and two observers CLARIN enables the work in various research domains by providing seamless access to digital data in multiple languages and processing tools hosted by a distributed network of interoperable certified repositories all across Europe and beyond.
For 30 years Franciska de Jong was a professor of language technology at the computer science department of the University of Twente where she worked on text mining, speech technology for audio archives, and cross-language retrieval. Between 2008 and 2018 she was a member of the Governing Boards of the Netherlands Organization for Scientific Research (NWO), and the National Library of the Netherlands (KB).
Currently she is a board member of the Netherlands eScience Center, the NWO Permanent Committee for Large-Scale Scientific Infrastructure, and the executive board of ERIC Forum. She is involved in the projects EOSC Future and EOSC Focus and in the steering board of the SSH Open Cluster.